Students across the United States have been impacted by learning loss from COVID-19. School districts have limited resources, and remediating the losses is not always possible with the traditional classroom model. In many schools, class sizes are large, and teachers have many responsibilities on top of classroom instruction.
At a time when kids need connection and extra help more than ever, the resources may not be there to help kids succeed academically. Solutions to both learning loss and the lack of connection with an invested educator can be found in high-impact tutoring.
A Lack of Connection Impacts Outcomes at All Levels
When kids lack connection in school, they also lack the support system necessary to succeed in school. If a student struggles with course material but doesn't feel comfortable asking for help or help is unavailable, their chances of success are much lower. Students need caring connections at school who have the capacity and resources to meet their educational needs.
Teacher Shortages & Large Class Sizes Leave Little Room for Differentiation
In larger classes, teachers have limited time to differentiate instruction or personalize materials to help students comprehend and apply the course material. Students with different learning styles and from many educational backgrounds are present in public schools, and one size does not fit all when it comes to learning.
Accountability for Learning is Difficult to Assign When Schools Cannot Meet Students Needs
Districts are accountable for providing a safe and supportive learning environment. Teachers are responsible for educating students and preparing them to meet grade-level standards, Students are responsible for learning. But when students struggle with even one class without someone stepping in to help get them back on track, it affects everyone from the student to the district administrators.
For example, failing Algebra I in their 9th-grade year can impact a student's entire future. A teacher may have many students in the same predicament, which reflects on their performance. When this becomes a pattern, and kids fail courses or drop out of school, the district can receive poor rankings, potentially affecting the district's reputation and funding. But all of this could be observed and potentially mitigated with consistent, caring connections at school. While connection won't solve every problem or cause every student to succeed without fail, it is a simple way to address a growing crisis.
High-Impact Tutoring Offers Students Connection & Personalized Instruction
High-impact tutoring uses small-group learning to engage students in the course material. Groups of three students work with one tutor for the entire academic year. While in small groups, tutors can identify obstacles to learning, differentiate instruction, provide personalized help, and help students feel confident in their ability to learn.
The students build a relationship with their tutor, who collaborates with the school, teachers, and guardians to communicate progress and needs and identify challenges before they impact the student's ability to move forward.
Three Ways High-Impact Tutoring Improves Student Outcomes
1. Students are actively engaged in learning within small groups & have a personal connection with their tutors.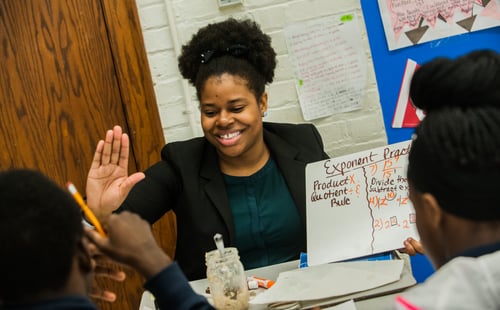 Saga Education's high-impact tutoring model is built around the idea that kids need caring adults in their lives who are invested in their education and well-being. While this is not a shocking revelation, it is important to note that connection is a key piece to learning and should not be overlooked.
In order to learn deeply, students need to feel safe taking risks, like getting the wrong answer or asking for help. High-impact tutoring allows students to develop math literacy skills while building that confidence in a safe and supportive environment.
These small-group tutoring sessions are designed for students to participate, ask questions, and accumulate wins so they feel ready to tackle more difficult material. Students build trust in their tutors, develop different dynamics with their peers and classroom teachers, and tend to perform better even in non-tutored classes.
2. High-impact tutoring allows for differentiation and personalization so that students can learn most effectively.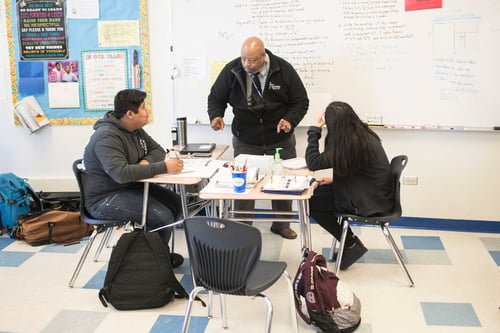 Learners have varying needs and methods of learning. Instruction needs to be varied and differentiated to meet the needs of all students, not just those who can learn and perform with teacher-led whole-class instruction.
Many students struggle to focus, feel more self-conscious asking questions in front of the entire class, and may not understand the lesson as it is presented. The opportunity for smaller group instruction benefits these students by providing a stable, consistent connection with someone they can turn to for help or celebrate their successes with.
Tutors help students understand the concepts by personalizing the lesson to help students learn best. Tutors field questions, facilitate skills practice, and observe students in real time so they can address any issues and make corrections right away.
3. Accountability for learning is easier to establish & monitor to ensure students are succeeding in class.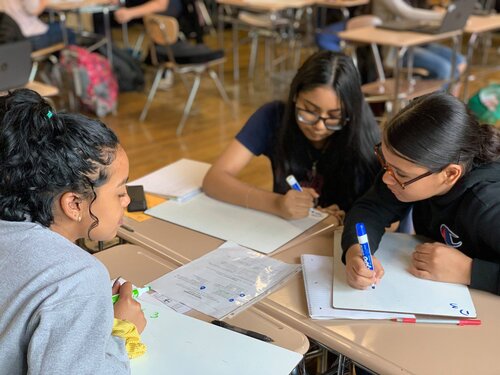 Students with solid connections at school are less likely to slip through the cracks. Many students have not had the privilege of a caring adult in their school experience, making it easier to overlook learning obstacles. Students are accountable for their effort and work but must have a connection with someone who can match the accountability for their learning.
Classroom teachers shoulder the responsibility for student learning but often lack the resources to make a widespread impact if students are struggling to learn concepts or perform at grade level. Many of them don't know their students, much less the individual circumstances that contribute to their learning and well-being.
Connecting students with in-class tutors support teachers. One classroom teacher cannot effectively meet the needs of hundreds of students, some of whom they may only see for a few hours a week, without the opportunity to interact one-on-one. The chances of catching up without this connection are very low for students who are already behind grade level.
Saga Education's High-Impact Tutoring Solutions Provide Meaningful Connections for Students
Our tutors work with students, teachers, and guardians to ensure solid support for students' education.
Saga Education knows that communication is key to successful connections. We surround students with a solid support system by providing connections with a tutor who can facilitate learning, provide support, and implement interventions. They help students understand the material, overcome obstacles, and celebrate success.
The connection between students and tutors improves student, teacher, and district outcomes.
Our tutors serve with Saga for a year while they gain valuable experience with students. They work closely with classroom teachers and get real-time feedback on their tutoring and student interactions.
A year of service gives our fellows direct experience working with students and teachers. In just that one year, a Saga tutor can teach a student up to 2.5 years of math and improve chances of course completion, school attendance, and even a student's chances of completing high school. This demonstrates just how powerful this student-tutor relationship can be for students and tutors.
How schools can harness the power of high-impact tutoring with Saga
High-impact tutoring has received national attention as a proven way to improve student outcomes and help districts address learning loss at scale. Find out how you can improve student outcomes with Saga Education.