High-impact tutoring is one of the most powerful educational interventions to increase student success. It improves academic support for students without relying on private or community resources. It supports schools without burdening districts with high costs.
Research shows that high-impact tutoring can help K-12 schools do more with less by using technology to tap into proven learning solutions and providing consistent tutor-student relationships.
As the national leader in high-impact, evidence-based, in-school tutoring, Saga Education is developing the next generation of tutoring models. By combining innovative online learning tools with powerful mentoring relationships and high-quality instruction, more schools and districts can now offer the personalized support every student needs through live-online tutoring.
Live-online tutoring also creates opportunities for non-teachers to get involved in education. College students, people switching careers, and other professionals can serve as live-online tutors to support classroom teachers and students while strengthening the talent pipeline into education.
Through live-online tutoring, school districts can support student success and recover from learning loss at a lower cost than traditional hiring processes or complicated learning models that don't significantly improve educational outcomes.
What Is Live-Online Tutoring?
How Live-Online Tutoring Works In Public School Classrooms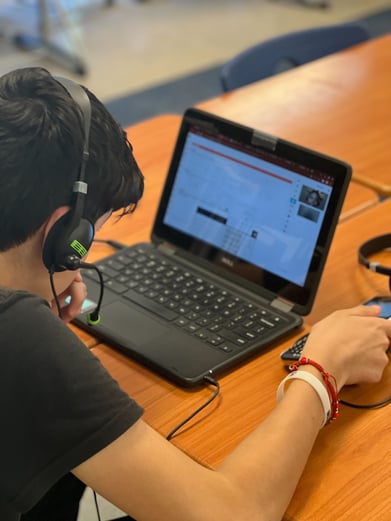 Live-online tutoring with Saga Education follows the same tenets of the evidence-based, high-impact tutoring we're known for, which continues to deliver game-changing results.
Live-online tutoring happens in small groups, with a ratio of one tutor to every three students. It is held during the school day and built into classroom instruction. Students receive this small group tutoring three times per week for 30-50 minutes each session.
Saga's live-online tutors are well-trained in rigorous and use high-quality curricula aligned with academic standards. Students are well-supported, as are tutors, teachers, and school districts. The same tutor follows the students throughout the school year to build consistent relationships and foster regular communication and coordination between classroom educators, tutors, and school leaders.
Saga meets national Every Student Succeeds Act (ESSA) evidenced-based standards and is approved for Comprehensive Support and Improvement (CSI) or other Federal (Title) funds.
5 Ways Live-Online Tutoring Increases Outcomes With Fewer Resources
1. Live-online tutoring uses digital learning tools and proven learning models to improve outcomes at a low cost.
High-impact tutoring is one of the most cost-effective interventions to address learning loss and reduce course failures for K–12 schools. Budget constraints, large class sizes, and teacher shortages limit the availability of small-group and one-on-one instruction in public school classrooms. Live-online tutoring offers a scalable solution that can reach many students at a fraction of the cost of many other interventions.
By leveraging proven learning models and digital learning tools like Saga Connect, public schools can afford to bring live-online tutoring into the classroom. Live-online tutors can give personalized attention to students, meeting their individual needs without requiring school districts to spend more on hiring teachers, training, or ineffective interventions.
Students learn from their regular classroom teachers, then break into small groups for tutoring sessions. They review the material, practice skills, and identify individual challenges.
This model uses classroom time efficiently to help students learn materials and stay caught up with their peers. In improving student outcomes, live-online tutoring helps mitigate school district costs associated with learning loss and recovery efforts.
Studies compare the cost of live-online tutoring programs to successful, cost-effective early childhood programs. This program's low costs and high success rates make it a critical component in managing widespread learning loss and mounting recovery costs for schools.
2. Live-online tutoring eases the burden on overworked teachers because they can focus on delivering the best instruction.
Teachers are central to the education system, but their responsibilities often extend far beyond the classroom. Lesson planning, grading, administrative tasks, and meetings can overwhelm educators, leaving limited time for individualized instruction.
However, by integrating live-online tutoring into the curriculum, schools can alleviate some of the burdens on teachers. Classroom teachers can focus on delivering high-quality instruction, while live-online tutors provide additional support.
Tutors reinforce concepts, address challenges, and offer extra practice opportunities. This combined effort accelerates learning, enhances student outcomes, and creates a supportive, collaborative learning environment.
3. Stronger talent pipeline: live-online tutoring helps schools increase the talent pool without sacrificing quality.
Human capital is one of our public schools' most significant needs and challenges. Students need well-qualified, effective, caring classroom teachers. However, hiring more qualified, educated teachers to meet student's individual needs is often impractical for districts with budget constraints, staffing shortages, and high turnover.
With live-online tutoring, work-study college students can serve as tutors. A fellowship with Saga Education allows college students to practice their skills and enhance their learning experience while improving outcomes for K-12 students. Implementing online tutoring in the regular classroom also helps schools to strengthen the teacher pipeline.
While budgets are a concern, failing to address learning loss and opportunity gaps has long-lasting implications for students, schools, communities, and the economy.
Saga has proven that live-online tutoring can help close the opportunity gap and address learning loss without sacrificing quality. Digital learning solutions and tutors can lead to even better student outcomes than traditional models using only professional teachers.
4. Improved learning: Live-online tutoring products like Saga Connect put all the manipulatives in one place for accelerated learning.
One of the key advantages of live-online tutoring is having many educational resources and manipulatives in one place. Traditional tutoring sessions can be hampered by missing or insufficient resources and underprepared tutors, limiting the scope of learning that can take place within a single session.
Live-online tutoring successfully integrates the necessary resources into the classroom, the digital platform, and the virtual learning environment. This consolidation facilitates a more seamless learning experience for students.
Tutors are well-trained and have resources on the digital platform to guide their tutoring and help students learn deeply. Tutors can be off-site to help students, and the digital platform reduces the need for more school supplies, compiling extra lesson plans, or coordinating complicated logistics to serve students.
5. Greater coaching opportunities and accountability: school leaders and teachers can observe tutorials in real time to ensure success.
Another significant advantage to live-online tutoring is the opportunity for school leaders and teachers to observe tutorials anonymously. In a traditional classroom, observation can influence the teaching-learning process.
With online tutorials, leaders can review sessions without disruption, allowing for an organic flow to instruction and learning.
Assessing live-online tutors' performance, interactions, and efficacy helps prevent issues that will be more costly for schools to fix if unobserved. One tutor can impact many students, so having accessibility and accountability measures in place ensures the resources and time put toward live-online tutoring return positive outcomes.
In Saga's live-online tutoring approach, classroom teachers observe tutoring sessions and offer tutors feedback to serve students better. Much like a student teacher, tutors benefit from practice and continued instruction.
Teachers can provide tutors with precise, constructive feedback based on real-time observations. This dynamic promotes accountability at the classroom level.
Learn More About How Live-Online Tutoring Can Increase Outcomes
Live-online tutoring solutions can significantly improve outcomes for K-12 students with fewer resources than traditional learning models. By harnessing digital tools and innovative tutoring techniques, we can address educational challenges head-on and create a more impactful, effective learning environment for students and an affordable solution for school districts to address learning loss and increase student achievement.