Saga Education is a respected industry leader in high-impact tutoring, a small-group tutoring method that addresses issues of learning loss and educational disparities in underfunded schools. Many students struggle to succeed academically in these schools because of the realities of living in underserved communities. There are fewer resources for students to receive individualized attention and instruction, larger class sizes, higher failure and dropout rates, and less safety net when kids fail or struggle in courses.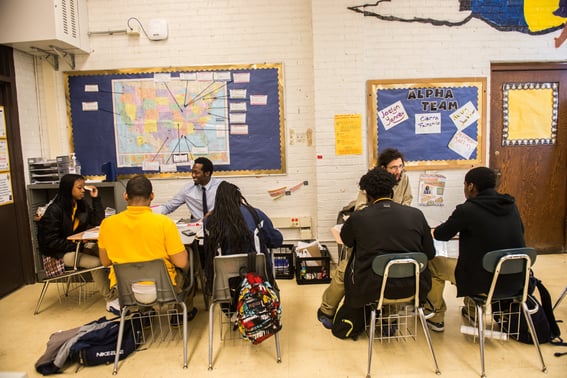 Post-Pandemic Learning Loss Impacts Underserved Students
In a post-pandemic world, educational disparities between districts with adequate resources and districts with lower funding only increased, widening the gap between affluent students and those from less privileged backgrounds. Addressing the increase in learning loss has proven to be more difficult, as there are more vulnerable students than ever. Resources are stretched with staffing shortages, increased absenteeism, and communities and families feeling the strain of the current climate and economy.
High-impact tutoring is one of the few strategies proven to increase learning, attendance, and future opportunities for underserved students in these districts. High-impact tutoring has proven effective in addressing learning loss and closing educational gaps; it is also cost-effective and accessible.
Small Group Tutoring as a Solution to Learning Loss
High-impact tutoring is a form of small group tutoring used as a core component of the school day. Students can go deeper into coursework without teachers having to stop their lessons or use classroom instruction time to address individual student needs. This allows teachers to move faster, teach more effectively, and ensure that students understand the course materials to move on to the next unit without falling behind their peers or endangering their course completion because they missed an essential skill.
High-Impact Tutoring Meets National Education Standards
Saga's small group tutoring model has been proven effective, and it meets national Every Student Succeeds Act (ESSA) evidence-based standards and is approved for Comprehensive Support and Improvement (CSI) or other Federal (Title) funds.
High-Impact Tutoring Proven Effective to Increase Student Success
Using rigorous evaluation standards, research into Saga's high-impact tutoring has proven to help students score higher on exams, improve grades, and pass high school courses. In addition, the structure, habits, and individualized attention create a positive learning environment for students and consistent relationships with adults committed to their success. Overall, students who receive these small group tutoring sessions have improved educational outcomes compared to their peers without access to this type of support.
How Does Small Group Tutoring Work?
Small group, high-impact tutoring is a method of in-class tutoring. Sessions are scheduled twice to three times per week to supplement core instruction. This small group tutoring gives students access to a tutor and time to learn new skills and address questions and areas of difficulty. Saga's high-impact tutoring model uses a 1:3 tutor-to-student ratio, and the tutors follow the same small group of students throughout the school year.
Saga's tutors are trained using best practices and are evaluated regularly against rigorous standards. They participate in continuing education and training to provide the best possible assistance to their students. Tutors regularly communicate with the school, administration, and teachers, relying on excellent relationships with school districts and classroom instructors to create a solid foundation for success and a comprehensive, consistent support system for students.
Results of Small Group Tutoring
High-Impact Tutoring Research Findings
Research into Saga's high-Impact tutoring has shown the power of consistent small-group tutoring during the school day. Eliminating the need for families to fund extra instructional time or private tutors, high-impact tutoring helps to level the playing field between students in well-funded school districts and those without the funding or setup to support struggling learners effectively.
The University of Chicago's Urban Labs found that high-impact tutoring helped students learn up to 2.5 years of math in one year, increased attendance, raised grades in math classes and non-tutored subjects, and reduced course failures across the board. It also addresses the opportunity gap between students in affluent districts and those in historically disadvantaged communities.
Learn More About High-Impact Tutoring
To learn more about the significant impact that small group, high-impact tutoring programs have on student achievement and school success, read our 2022 Impact Report.