After a three-year journey with us, during which she spearheaded some of the most significant technological advancements in education, Krista Marks is entering semi-retirement and stepping down from her full-time role as Chief Technology Officer (CTO). Tom Fischaber, who has collaborated closely with Krista for many years, will serve as our Interim CTO.
We're delighted to share that she will transition into the part-time role of strategic advisor to Saga, continuing to guide us and advocate for our mission in education technology. Krista's talent for communicating the significance of cutting-edge technologies, such as AI, and its impact on students and tutors is unparalleled, and we look forward to her continued insights.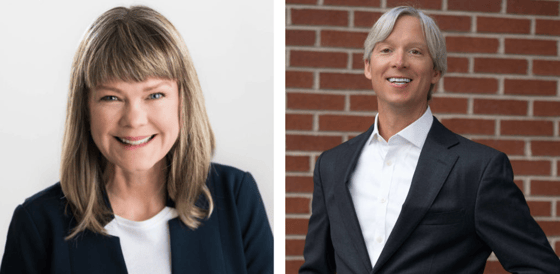 Krista Marks and Tom Fischaber
For 25 years, Tom has steered technology teams and projects to deliver award-winning products and services. "I am honored to take on this role at such a pivotal moment in Saga's journey. As we gear up to empower districts to run their high-impact tutoring programs at scale, I'm excited about the transformative potential that technology and AI holds to further our reach and impact, and I am excited and fully committed to driving its success," says Tom.
Before taking his current role as VP of Technical Operations at Saga in 2020, Tom was VP of Operations and Co-Founder of Woot Math, where he managed a suite of award-winning, research-backed software solutions. Tom also co-led sales, marketing, and district implementations for Woot Math, reaching over 100,000 students nationwide.
Tom was an Executive Producer at the Walt Disney Company after Disney acquired Kerpoof, a company he co-founded and was COO. At Disney, Tom led internet-scale product management, content management, and UGC moderation teams for Disney Online. Tom worked closely with other Disney business units (including Pixar, Disney Parks and Resorts, and Disney Cruise Line) to scale and port Kerpoof's innovative software to Disney.com, which resulted in the award-winning Create portal. Under Tom's leadership, Disney developed software that transformed how they monitored online experiences for kids.
Tom earned his master's degree in Electrical Engineering from the University of Colorado Boulder, and a bachelor's degree in Electrical Engineering from the Colorado School of Mines.
We are grateful to Krista for establishing a strong foundation and vision for us to build upon and look forward to new heights with Tom.